Who's saving whom? | MOV file | English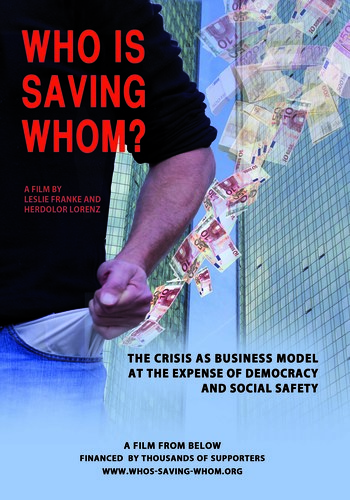 "Who's saving whom?" for private use as MOV file (2 GB) - 18,00 €

"Who's saving whom?" including the licence for non comercial public screening as MOV file (2 GB) - 38,00 €
In the case of comercial screenings we are working with a repartition of incomes 40:60 between Kernfilm/organizer of the event.

We are publishing on our website a list of all the public screenings of the movie in order to help interested people to find a screening in their surroundings. In order to be able to provide up-to-date information please do not forget to inform us about your screening. Please send the following information to This email address is being protected from spambots. You need JavaScript enabled to view it.: Date, hour, venue, city, guests, organizer of the event, web page for more information ...
At first the threatened economies were being rescued and then whole countries were being bailed out since 2008. Politicians are juggling with increasingly new multi-billion rescue packages, while people are again working for starvation wages in Europe. There are many rescue packages but there is no salvation in sight.
The film "Who is saving whom" shows the truth about how is saved: It was never about saving the Greeks, or the Spanish or the Portuguese. It was always about the principal earners of these crises: the banks that contributed with high-risk speculations. We, the taxpayers and socially disadvantaged are expected to put up with these massive billion euro risks. For the big banks, the financial crisis is mainly a business model.
---
Subcategories